it's a concrete world.

Structural Contracting Services, Inc
est. 1994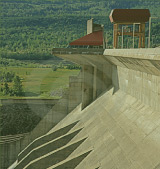 Hi-rises, bridges, parking garages and airports-all supported with the strength and durability of this versatile material.When properly placed and protected, good quality concrete can provide a century's worth of reliable stability. But, unfortunately, poor quality construction and design often leave it vulnerable to environmental uncertainties. Under these conditions, the structural integrity of concrete is at risk from cracking. spalling, leaking or possible failure. These concrete problems need structural solutions, remedies that get to the root of the problem rather than just addressing the cosmetic symptom.
| | |
| --- | --- |
| Airports | Piers |
| Dams | Plaza Decks |
| Historic Structures | Power Generating Facilities |
| Industrial Plants | Stadiums |
| Mass Transit Facilities | Tunnels |
| Office Complexes | Water Treatment Centers |
| Parking Garages | Water Treatment Plants |